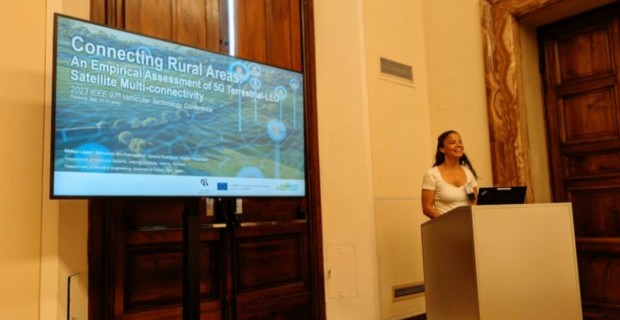 CONFERENCE PAPER: Connecting Rural Areas: An Empirical Assessment of 5G-Terrestrial LEO-Satellite Multi-connectivity
Today, Melisa López (Aalborg University) presented her new COMMECT paper at the 27th EEE Vehicular Technology Conference, which is taking place in Florence.

The paper is entitled "Connecting Rural Areas: An Empirical Assessment of 5G-Terrestrial LEO-Satellite Multi-connectivity". It contains the first set of results related to one of the connectivity solutions that the COMMECT project will propose for the Living Lab in Denmark.

The main objective of the paper is to show, using an experimental approach, how cellular-satellite multi-connectivity can help providing low-latency seamless connectivity along the route for the livestock transport trucks. The authors performed some mobility tests in a rural area in Denmark over real 5G NSA and satellite networks.

The full version of the paper can be downloaded here: https://vbn.aau.dk/da/publications/connecting-rural-areas-an-empirical-assessment-of-5g-terrestrial--2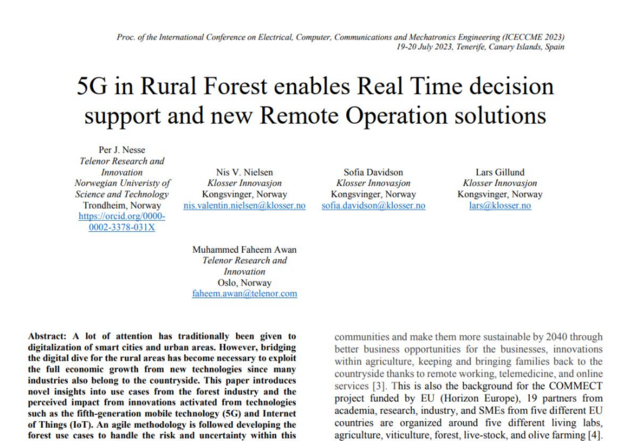 CONFERENCE PAPER: 5G in Rural Forest enables Real Time decision support and new Remote Operation
The article "5G in Rural Forest enables Real Time decision support and new Remote Operation solutions" has been accepted and will be presented at the International Conference on Electrical, Computer, Communications and Mechatronics Engineering (ICECCME 2023) organized by ecer.org on 19-20 July 2023. The article will be available on IEEE Xplore shortly afterwards.
The article discusses how industry and society in rural areas can benefit from next generation network technologies. More specifically, based on interviews with stakeholders from the forest value chain in Norway, the study focuses on three distinct impactful use cases where premium cellular network (5G) connection is employed. Potential impact dimensions are identified and operationalized in three groups: business, user/society, and environment. The next step is to publish the results from the test and validation of Proof of Concept's (PoC's) within the three use cases.
This paper has been authored by Per Jonny Nesse and Muhammed Faheem Awan from Telenor Research and Innovation, together with Nis Valentin Nielsen, Sofia Davidson and Lars Gillund from Klosser Innovasjon AS, and received funds from the Horizon Europe project COMMECT.